- A Celebration of The Doors -




Pete Bowman: Pete Bowman's love of philosophy and all things esoteric has provided him with the ammunition to take on the challenging role of Jim. Many years experience singing has provided this baritone with the tools to emulate the man who some thought was a poet, a shaman, or an all-out wild child! Pete Bowman can also be found performing the with his orginal band The Walkins. Click here to check out The WALK-INS

Mike Zyke: Mike's attention to detail allows him to replicate the snake sliding, mind bending, electrifying riffs crafted by the legendary Robbie Krieger. He can capture in a single bound the delicate intensity of Spanish Caravan and the trance inducing fingerings of The End. To hear him replicate The Doors is a treat to guitar aficionados everywhere.
Shawn Hazes
:

Shawn's fingers are said to be possessed by Bach himself! Akin to Ray Manzarek , Shawn is a classically trained pianist - having studied piano from an early age. When this writer/composer is not playing piano and keyboards for The Unknown Soldiers , he can be found collaborating on his original music projects and movie soundtracks.
Erique Leflave:
THE DOORS were known for using several differant session bass players on their Albums. Erique brings back that spirit with his thunderous bass approach and styling helping to complete the Doors sound. Erique is a local fixture in the Vancouver music scene and plays in countless other bands such as

The Top Drawers,

The WALK-INS and

Danny Echo

just to name a few. He has also backed up Ex Hollies and rock and roll hall of fame member Terry Sylvester.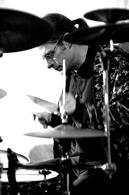 Blair McDonald:
Blair's hard hitting percussive phrasing and masterful punctuation is highly suited for emulating the thunderous rhythm style of John Densmore. Blair also performs drums for Generation Who and The Walkins. Click here to check out the The WALK-INS